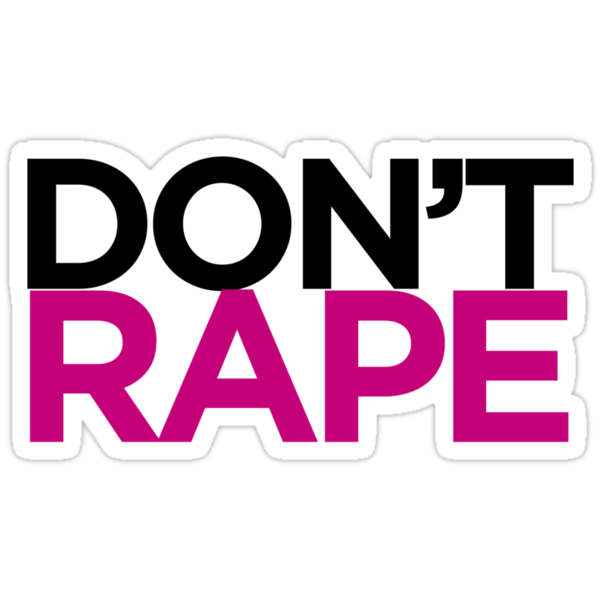 Yesterday there was discussion on Twitter about rape amongst minority women. I found the coincidence to be odd considering I was having a conversation with someone about rape, before I was aware of my fast moving timeline's concerns. As I read some of the tweets about date rape, being raped by someone they knew really well, and lots of men not accepting "No" as a serious response to their advances, I started getting a little sick to my stomach. I counted how many women I have in my phone. Of the almost 600 contacts, about 200 are women. Of those 200, 15% have been raped before. Some of them were molested as children, experienced rape from boyfriends, friends of the family, even their best friends. Some of these women have suffered at the hands of different rapists. My stomach sinks even lower to know that some of these predators are women too.
As alarming as this is, an even greater sadness washed over me when I realized this isn't even ALL the women I know that have been raped. It might sound like an exaggeration, but for some of us, almost 50% of the women we know have been in a situation that could be
constituted
as rape, unwanted sexual advances, or molestation of some kind. It moved me to ask a few people how many women they knew that had been raped. Most responses were, "1 or 2 people".
It might seem like I'm
over-thinking
things but...I'm a woman, have two beautiful daughters, and I care a hell of a lot about us NOT being raped. While I could focus on finding a deeper meaning to why so many women have shared such emotionally damaging information with me, it would be selfish to not concern myself with WHY so many people have formed a sense of entitlement over others genitals. This is no laughing matter or something to be brushed aside. Most of the women I speak of that have suffered at the hands of their predators, knew them well enough to trust that they were in good company. Until they weren't.
It makes one begin to think that some of the rapists don't view themselves as such and that there is nothing wrong with their aggressive, predatory behavior. If it isn't consensual, it's rape. Maybe it needs to be clarified as to what consensual is.
If someone is in your bed, that doesn't make it consensual. If you feel that way, don't let anyone into your sheets until it is confirmed that they will be having sex with you. If someone is in the middle of heavy foreplay with you and decides they don't want to move further, that IS a "No". Every woman who says "No" isn't playing hard to get and even if she is, regardless of you being a man/woman or extremely horny, back up. Hearing a "No" is your cue to STOP, whether she is laughing or has to scream it out.
You just started dating and she's moving slow when it comes to having sex. You decide to speed it up by having sex with her after she falls asleep. Nothing about this is consensual unless she has given you permission to invade her personal space while she is sleep. Some of the synonyms for consensual are agreed, like-minded, of one mind, shared, undisputed, unquestioned. If you didn't get a favorable answer before she dozed off, keep your appendages to yourself. Have some self-control.
THINK first. It might be easier said than done when all the blood in your body seems to have rushed to your penis or your vagina is pulsating. Keep in mind that because you have the crotch of fire raging for sexual interaction, that isn't everyone else's condition. This person more than likely trusts that you would never harm them and just because you make a point to not leave any physical proof of damage, that doesn't mean you aren't fucking up people's head that you touch inappropriately. Molestation is still a form of nonconsensual activity.
As the examples fill my head to further drive home the point for people to keep their hands to themselves, I begin to feel like this is just banter. I don't believe rape can be prevented by teaching people not to get raped. We as a society have to teach one another that IT ISN'T OKAY TO FORCE OURSELVES ON EACH OTHER. A part of me feels like people would stop and think if the violator's were punished by being raped themselves. When you are forced to have something so personal taken from you, you being to look at the world differently. You understand the fear in some people's eyes of being left alone with someone who looks like their attacker. You understand the women who seem to be all over the place in their relationships because deep down, their trust issues are preventing them from opening up to others. The world becomes a little more clearer than just your control/power issues, need to dominate, and unhealthy ego that says 'If I want it, it's mine".
I hope we can move one step closer to giving a fuck about someone other than ourselves. If rape isn't one of the most selfish things to ever exist, it's pretty damn close. As a woman and a mother, I feel like the universe is trying to deliver a message by allowing me to meet these women who've opened up to me about their rapes. I can't say I immediately know how my purpose in life is connected to this but it is definitely a cause worth fighting for and I plan to seek out ways to educate people on the subject. If it helps one man/woman think before their aggression consumes them, I've done something that mattered. I hope more people choose to be part of a solution for rape, versus becoming a negative part of the problem.